Skip to main content
It looks like you're using Internet Explorer 11 or older. This website works best with modern browsers such as the latest versions of Chrome, Firefox, Safari, and Edge. If you continue with this browser, you may see unexpected results.
UCN Libraries Catalogue and Main Database
Welcome
Aboriginal law is that part of our legal system that regulates the relationship between the Aboriginal people of Canada, the Canadian government and the rest of the Canadian society. It has many components. Treaty negotiations and rights, natural resources harvesting rights, land and fisheries use, residential and school abuse, are all part of this multidimensional area of law. It also influences traditional areas of law, such as taxation, commercial development, oil and gas rights, labour law, criminal law and family law that need to be regarded in the context of Aboriginal law if they involve Canada's Aboriginal people.
Magazines
Canadian Native Law Reporter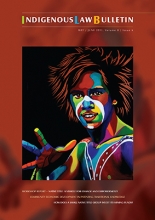 Indigenous Law Bulletin
Justice as Healing
Books
Aboriginal Law Handbook

by

Call Number: KE 444 .I5 1993

ISBN: 0459239392

Publication Date: 1999-12-01

Aboriginal Law : Commentary And Analysis

by

Call Number: KF 8205 .1823 2012

ISBN: 9781895830620

Publication Date: 2012

Book available at UCN Libraries: The Pas

Aboriginal Peoples, Colonialism and International Law

by

Call Number: KF 8205 .W38 2015

ISBN: 9780415721752

Publication Date: 2014-10-29

Book available at UCN Libraries: The Pas

Aboriginal Fishing Rights

by

Call Number: KEB 529.5 .H8 S52 1998

ISBN: 9781895686982

Publication Date: 1998-05-01

Book available at UCN Libraries: The Pas

Fragile settlements

by

Call Number: GN 667 .W5 N48 2016

ISBN: 9780774830898

Publication Date: 2016

Book available at UCN Libraries